How This Photo File Compression Software Works: JPG Converter

PhotoELF will allow you to Compress Any Photo Format into JPEG - JPG image files at any compression level you wish. This reduces File Size with Photo Quality as a trade off. You can Test the results before saving, viewing how it will look and what the Filesize will be.

This feature is great for Website, webmasters or for e-mailing photos or fitting more pictures onto a CD-ROM.

From PhotoELF's main window, you simply multi-select all of the thumbnails or filenames of the photos / pictures you want to compress, regardless of their current format, and then look in the EDIT menu for:

Batch JPG Compress
OR
JPG Compress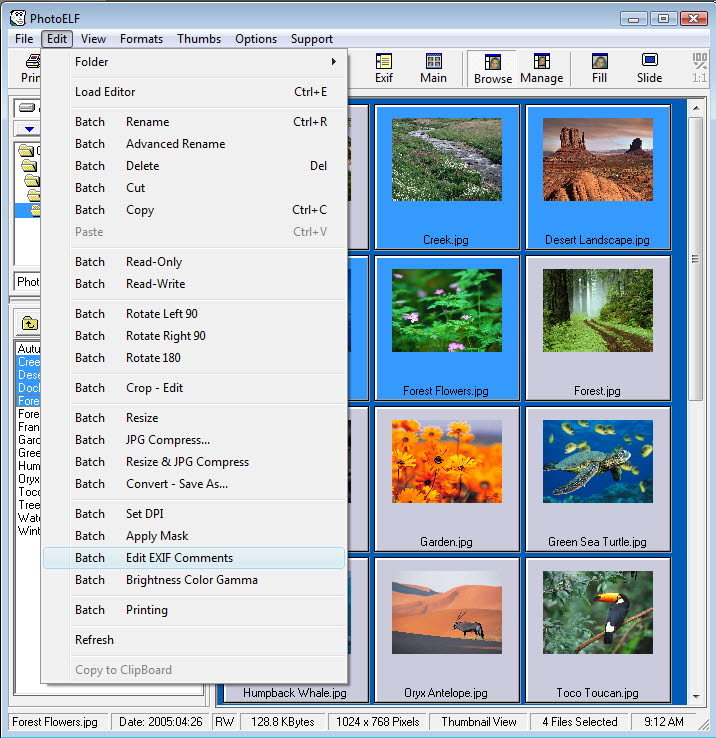 Doing so will then Load the PhotoELF JPG Compression Window giving you many options: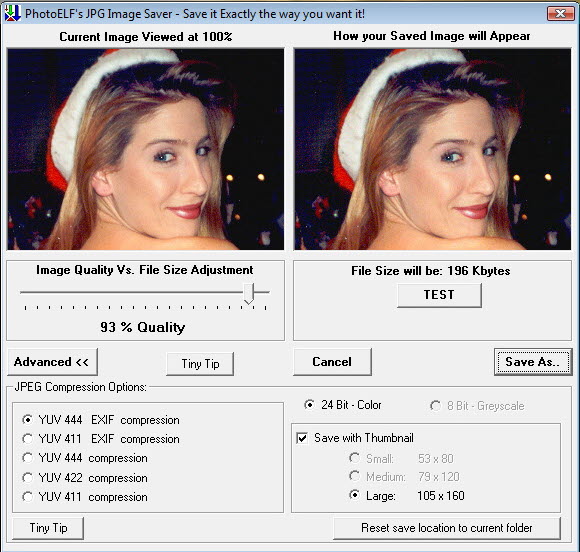 The photo is displayed in 2 windows (at 100%) for a Before and After look at the photo.
You may click and drag the photo around to get a closer look at specific features.
Click and Drag the Quality Bar to any percantage
Choose YUV 444 - YUV 422 - YUV 411 or 24-bit or 8 bit grey scale (gray or black and white)
When Ready, click the TEST button to view what the resulting file size will be.
In the example above, the Image File started out as a 1.4 mega byte (TIF) image (1,400 Kbytes) and was compressed into a 38 Kbyte JPG (JPEG) Photo File.

With this photo compression window, you may choose to overwrite the original filenames or you can choose to create new images and provide a new set of names.

This compression operation will compress any of the following formats into a JPG (JPEG) Image File: BMP, CLP, CUR, EMF, FPX, ICO, IFF, JPG, JPEG, PCT, PCX, PNG, PSD, RAS, SGI, TGA, TIF, WMF

If you have Mult-Selected more than 1 photo, clicking the Save As... button will then give you the choice of Overwriting or Creating New Files and will then automatically Load, Compress and Save the new photos for you.

If you have multi-Selected several thousand photos, you can walk away and let it process all of them for you.

Compressing Photos has never been faster.


---

PhotoELF Offers more Batch Functions and Time Saving Editing Functions then any other software program on the market and is the Professional choice.

Download PhotoELFs Free Trial Software