How This Batch File Renaming Software Feature Works:

The Batch Rename feature will work with any files, not just Digital Images and it will preserve the filename extensions.

PhotoELF offers 7 different ways to batch rename a selected group of photos or files:

First, you simply Multi Select the filenames or thumbnail images that you wish to rename and then look in the EDIT menu and select: Batch Rename or Batch Advanced Rename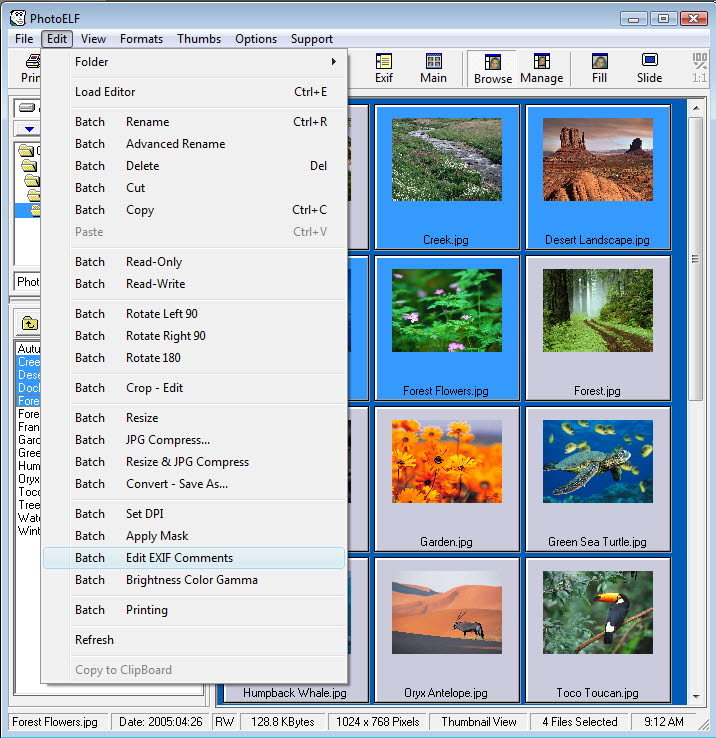 Selecting Batch Rename will produce the following window:





With Batch Rename, you may choose to give all the files selected the same Basename with sequential numbers or you can choose to Keep Original filenames but add a prefix.


---

The Batch Renaming "Basename" method would produce filenames that look like this:

My Vacation_001.jpg
My Vacation_002.jpg
My Vacation_003.jpg
etc.

If you click the Options Button, you can choose to start the sequential numbering at any number you wish and you can specify how much to increment the numbering. In the example above, the files were batch renamed starting at 1 and incrementing by 1. You could choose to start at 100 and increment by 10. Or any combination you wish.


---

The Batch Renaming "Add a Prefix" method works like this:

If the original file names were named:

Mom and Dad.jpg
Holiday Fun.jpg
The Kids.jpg

and you chose a prefix of: "Dec 2003 - "


Then the resulting batch renamed files would be named:

Dec 2003 - Mom and Dad.jpg
Dec 2003 - Holiday Fun.jpg
Dec 2003 - The Kids.jpg


---
---
Selecting Batch Advanced Rename will produce the following window: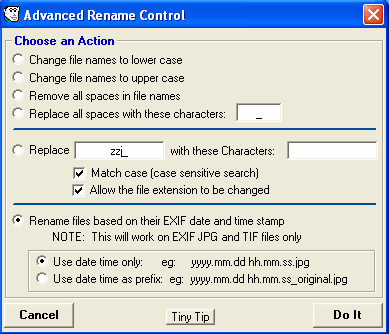 This feature will allow you to perform the following on all selected file names at once:
Change All filenames to Lower Case
Change All filenames to Upper Case
Remove all Spaces from filenames
Replace Spaces with any character or characters you wish
Replace (any characters) with (any characters) you wish (user defined)
Rename the photos by the Date they were taken
Rename by date: Either use the date as the entire filename, or keep original filename and add the Date as a prefix
These Batch Naming functions, or a comination of them, will help control your file names for organizing or getting ready to upload to a website.

---

Again, the above batch renaming features will work on any file names, All Digital Photo files, Text Files, Document files etc.

PhotoELF Offers more Batch Functions then any other software program on the market and is the Professional choice.

Download PhotoELFs Free Trial Software